First we have Pastor Fred Phelps of Westboro Baptist Church (I know...most Baptists probably hate that reference)...
Then I discovered actor Angus Scrimm from the 1979 movie Phantasm...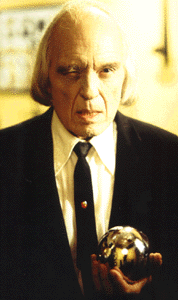 For the record I despise the actions of Phelps and his motley crew. No family of a fallen soldier should ever have to put up with the antics of this group. These families gave their all...their own flesh and blood...and yet this group is allowed to stick a hot poker into the fresh wounds of the grieving. It's nothing short of shameful and disgusting.
Thanks for Justin Vacula's blog for bring this thought to mind in the first place.